Prince Charles group restores historic Caithness cottages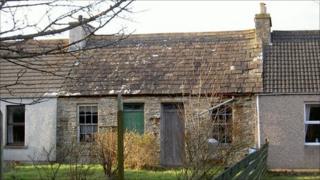 The last surviving cottages used by Caithness flagstone quarry workers from the 1890s until the 1950s are being restored.
Organisation set up by the Duke of Rothesay are involved in taking over and repairing the two properties, called the Backies.
With only two rooms, the cottages in Castletown, Caithness, are the last of their kind to remain largely unaltered.
They were called Backies because the rear of the homes face onto a lane.
The Prince's Regeneration Trust is leading the restoration work.
The trust is part of North Highland Initiative which plans to use the properties for meetings and as holiday lets.
Prince Charles set up the initiative to help promote the far north of Scotland.
'Absolutely thrilled'
Ros Kerslake, chief executive of the trust, said: "There are so many of these lovely vernacular buildings in Caithness which are lying derelict.
"The conversion of the Backies will stand as an exemplar of how these buildings can be successfully brought back into use."
Castletown Heritage Society will be involving the local community in aspects of the restoration.
The society's drystone dyking course will involve rebuilding sections of the original stone walls around the property and a traditional skills workshop will help in furnishing the Backies.
Society chairwoman Muriel Murray said: "We're absolutely thrilled that The Prince's Regeneration Trust is giving the local community the opportunity to participate in the restoration of the Backies - two buildings that represent the distinct history and culture of our village."