Highland Council apologises for 'lack of clarity' on egg hunt licence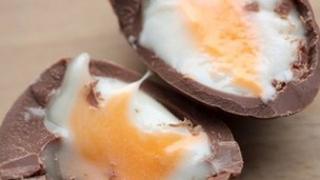 A council has apologised for a "lack of clarity" after organisers of an Easter egg hunt were told they needed a public entertainment licence.
Rosemarkie Amenities Association was told it would require a £153 licence for the free children's event because of changes to legislation.
Highland Council has now said that no fee or licence is needed.
The local authority said free community or fund-raising events were not affected by the rule changes.
In a statement, it said: "The council has apologised for a lack of clarity in its previous guidance on the proposed changes to public entertainment licensing from 1 April 2012."
Licensing committee chairman Peter Corbett said councillors and staff had earlier had worries about what changes to the legislation would mean for community groups.
He added: "The impact on local community groups would have been significant and the last thing in the world we would want is to see an end to all the good work that volunteers undertake in their local towns and villages.
"We have looked at our rules governing public entertainment licensing and I am pleased to assure the public that the status quo will prevail from 1 April.
"If a group did not need a licence in the past they will not need one after 1 April.
"Equally, if a group required a licence in the past they will continue to require a licence after 1 April. I hope this gives communities the reassurance they were looking for."
On Tuesday, Myra Carus, of Rosemarkie Amenities Association, told BBC Radio Scotland that the group had been told it would need a licence for the egg hunt and an Easter bonnet-making competition.
Rob Gibson, SNP MSP for Caithness, Sutherland and Ross, said that under the new rules local authorities could charge free events for a licence, but only if they wanted to do so.
Highland's budget leader, David Alston, responded by saying the community association deserved an apology if it had been asked to pay for a licence.
The Liberal Democrat blamed the legislation for the situation.