Government to repay 'majority' of £5.4m housing expo guarantee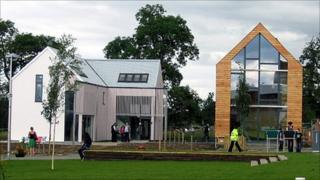 The Scottish government has said it will repay the "majority" of a £5.4m guarantee on a loan taken out to build 24 homes at Scotland's Housing Expo.
Three of the properties have been sold since the exhibition of innovative architecture was held in Inverness in August 2010.
A further sale was pending at the Balvonie Braes development, the government said.
The term of the loan guarantee to the bank RBS expires on 1 April this year.
Highlands Housing Alliance (HHA) was responsible for the completion of 52 houses in total for the exhibition, which also received funding from Highland Council.
Following the expo, the properties were to be sold off, or made available to rent.
Twenty units built for social rent and shared equity are all occupied, while four of eight homes built by private developers have been sold.
Of 24 units built for outright sale three have been sold and one sale was pending.
A government spokesman said: "In order to secure the construction and completion of the housing expo held near Inverness in 2010, the Scottish government made available a £5.4m guarantee to RBS Ltd as a condition the loan facility provided to HHA.
"The guarantee relates to the 24 units built for sale by HHA and expires on 1 April 2012.
"The Scottish government will repay the majority of the guarantee to RBS Ltd and recover its outlay from the ongoing sale of these properties."
He added: "HHA is currently concluding refinancing arrangements with RBS Ltd for the remaining unsold properties, some of which will be used to pay off their original loan that was subject to the RBS Ltd guarantee."