Inverness millionaire Alan Savage's ex loses claim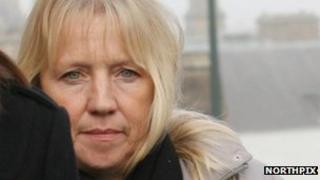 A woman who sued her millionaire ex-partner for loss of earnings has lost her claim for £219,500.
Julie Zelent, 51, who now lives in the US, said her two-year relationship with Inverness businessman Alan Savage, 61, left her "economically disadvantaged".
Mr Savage denied Ms Zelent's allegations that included him telling her what to wear and breaking a promise of marriage.
Sheriff Margaret Neilson said Ms Zelent had "lacked credibility".
She had sued for £500,000, but later reduced her claim to £219,500.
She claimed for loss of earnings, employment benefits and pension rights.
Evidence was heard during a six-day hearing at Inverness Sheriff Court.
Ms Zelent said that, after meeting on a flight from Edinburgh to London in June 2006, Mr Savage, a widower at the time, later convinced her to give up her £54,000-a-year IT job with Royal Bank of Scotland and join him in Inverness.
'Little credit'
She told the court the bank said it was not possible for her to work out of Inverness but Mr Savage offered her a job at his company.
Mr Savage runs a firm called Orion and is a former chairman of Inverness Caledonian Thistle FC.
During the hearing, the court heard that Ms Zelent's new partner in the US was a high-powered police officer who had a military pension from his time served in the US Marine Corps.
Sheriff Neilson said Ms Zelent had not been able to prove her claim of having been left economically disadvantaged.
In her newly-published opinion, the sheriff said the woman had "little credit" as a witness and much of her evidence had be disregarded during the hearing.
Sheriff Neilson said: "Her motivation is known only to herself.
"Whether she is simply bitter at the defender's ending of the relationship and seeking revenge for the emotional distress caused to her, or whether she saw the raising of the action as a means to benefit financially on the assumption that the defender would not wish to incur the expense and publicity of court proceedings is not clear."