NFUS and government in efforts to get new blood into farming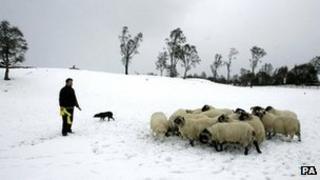 Ways of helping more younger people take up farming are being examined.
NFU Scotland and the Scottish governments want to look at the high cost of land, availability of tenancies and the time it takes for farms to transfer from one generation to the next.
Figures from the Scottish Agricultural College (SAC) suggest the number of farm holders aged under 44 has fallen to below one in five.
But 27% of farmers are aged over 67.
SAC has added, however, that the statistics may mask the "true nature" of an ageing population.
It said that there was often a younger farmer living and working on the farm while an older family member remained the official head of the holding.
NFU Scotland (NFUS) set up a new generation group in 2011.
In February this year its members agreed a mission statement, to create the best operating environment for the new generation of Scottish agriculture.
Group member Iain Mackay, a tenant farmer on Mull, said: "A few of us had been knocking at NFUS's door asking for a stronger voice within the union.
"We thought the best way to influence governmental decisions was through the union.
"The progress has not been as fast as we would have liked. We're young and enthusiastic and want to move as quickly as possible.
"It's gaining momentum now."
The Scottish government is holding a new entrants summit later this year and plans to set up a new entrants panel.
The Agricultural Holdings Bill, which is making its way through the Scottish Parliament, aims to give greater help to farmers who rent or wish to rent farms and crofts.
Rural Affairs Secretary Richard Lochhead said: "It is vital that we attract new blood into Scottish agriculture and although there are many dynamic young men and women actively farming, the ageing profile is a big concern for the industry.
"Scotland's older farmers have a wealth of expertise at their disposal and the benefits of their years of experience should not be underestimated.
"I'm sure the farmers of tomorrow can learn a great deal from the older generation and I'd encourage them to take every opportunity to do just that."
He added: "The costs of acquiring a farm these days can seem an insurmountable barrier for aspiring farmers.
"A viable farming business usually needs a house attached, plenty of land and the necessary equipment and livestock.
"To attract more young people into agriculture, we're committed to supporting new entrants and helping them to get their foot in the door.
"That's why we're working to ensure new entrants get the support they deserve from the Common Agricultural Policy currently being renegotiated."
Attracting new entrants has been a worry for other parts of the UK.
In Wales, 64% of Welsh farmers are aged 55 and over.
The Welsh government's Young Entrants Support Scheme provides support for new entrants to farming under the age of 40 who are setting up as head of a holding for the first time, or who have set-up as head of a holding within the previous year.
An assistance package available under the scheme includes a one off grant payment for capital expenses and access to a funded mentoring services from established farmers.
The Welsh government also helps to provide "succession surgeries" to help smooth the transfer of farms between generations.
The length of time it takes a farmer to be succeeded by their sons or daughters has been an issue in Northern Ireland.
Martyn Blair, deputy president of Young Farmers' Clubs of Ulster, said the problem had as much to do with younger people not choosing to follow parents into agriculture, as older farmers' reluctance to hand over the reins.
The 31-year-old raises poultry and beef cattle with his father in Ballymoney, County Antrim.
He returned to the family farm after graduating from Queen's University in Belfast where he studied agricultural economics.
'Economic downturn'
Mr Blair said: "For a long time succession was the big white elephant in the room. Nobody wanted to talk about who the farm was being left to.
"My father is very open minded. We are equal partners on the farm. My name is on everything - the herd number, cheque books, the farm ID number.
"To be honest I am one of the lucky ones. I know of cases where farmers are 55 years of age and don't have their name on the cheque book.
"It's simply due to the fact that their father was only handed the reins of the farm when they were 40, so they don't then want to just turn around and straight away hand it to their son."
Good jobs in other careers had drawn young people away from following in the muddy boots of fathers, mothers and grandparents in the past, Mr Blair said.
He said: "There were five of us in the same house all studying the same course at university and I was the only one who returned to the farm.
"The others took employment away from their family farm, though they still took an interest in it.
"However, I have noticed more and more youngsters realising that staying on the family farm has a future.
"The main factor I would attribute this to is the economic downturn. Other manual trades and professions are struggling now for work.
"Farming has an assured income, though not a great one, and that maybe appeals in the times we are in now."
Kate Stephen, a researcher based at the University of the Highlands and Islands' Centre for Rural Health, believes farmers and crofters find it hard to let go.
She said: "There is no set retirement date for your crofter. You don't stop working overnight and have a pension. It is a lifetime thing.
"People keep on going for as long as they can."