Dounreay in Caithness to store foreign nuclear waste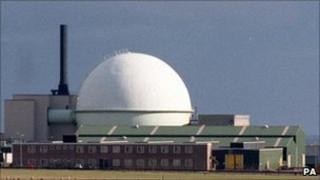 Up to 450 tonnes of nuclear waste which should have been sent back to be dealt with in other countries could be stored at Dounreay in Caithness.
The material is in addition to 15,000 tonnes of intermediate waste scheduled to be held at the site.
Countries including Germany and Italy sent material to Dounreay in the 1990s so fuel could be extracted from it.
It was to have been sent back but one foreign customer said it could not handle the waste in its current form.
Other countries have still to confirm whether they have facilities to deal with the material.
Most of the foreign waste at Dounreay has been mixed with cement in drums but some is still a sludge awaiting similar treatment.
One country, which has not been identified, said it could not handle the cemented waste but it had the capability to deal with waste that had been vitrified and turned into glass.
The Nuclear Decommissioning Authority has proposed keeping the foreign waste at Dounreay, but sending an equivalent amount of vitrified waste from its national stores at Sellafield in Cumbria.
The UK and Scottish governments launched public consultation on the proposal in 2010.
'Toxic legacy'
The Scottish governmenthas now said it agreed in principle to the plan.
A spokesman said: 'The Scottish government is committed to cleaning up the nuclear legacy it has inherited.
"This policy means that equivalent amounts of radioactive waste - resulting from historic reprocessing of overseas research reactor fuel at Dounreay - can be returned to overseas customers in a suitable state.
"All of this underlines the toxic legacy of nuclear energy, and reinforces the Scottish government's policy of not building new nuclear power plants and capitalising instead on Scotland's vast green energy potential."
Dounreay Site Restoration Limited, which is leading the demolition and clean up of the Caithness site, said the volume of foreign waste to be stored could fall if other countries confirmed they could deal with it in cement form.
Intermediate waste will be stored above ground at Dounreay until a decision is taken on where it should be kept long-term underground.
A separate consignment of about 150 tonnes of intermediate level waste at Dounreay is to be returned to Belgium by boat later this year.
The material will be collected by Belgian contractors.
A vessel arrived from Belgium at Scrabster, near Thurso, last year to carry out a "dry run" ahead of taking the first of about 20 shipments.