Online farm forms disenfranchise, Highland Council says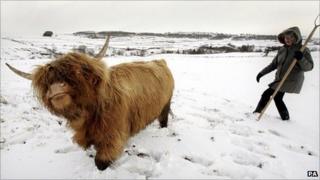 Requiring farmers to apply for grants and subsidies online disenfranchises some smaller producers, Highland Council has said.
In a draft response to a consultation on Common Agricultural Policy (CAP) reform, it warned against restricting communication to just the internet.
It disagrees with an idea for an online system for handling CAP payments.
The council said this was because of farmers' experience with online-only rural development programme forms.
The response has been made toScottish government consultationon the European Union's planned reform of CAP.
The government has asked whether an electronic applications system would aid accuracy and speed-up the processing of forms.
In its draft response, Highland Council has supported a suggestion that young farmers should get extra payments to encourage new blood into the industry.
Separate to the local authority's views, Scottish Crofting Federation researcher Iain MacKinnon has suggested that CAP reform offered an opportunity to look at how crofters were supported.
Writing in the National Trust for Scotland (NTS) magazine, Scotland in Trust, he said a scheme involving 24 crofters on NTS's Balmacara Estate could be used as a model for the rest of Scotland.
On the Ross-shire estate, funding is offered for basic production costs of crops and a premium for cutting hay, with further financial assistance if the hay was cut to avoid harming the breeding season of ground-nesting birds.
In the article, Mr MacKinnon said government support for traditional farming methods was often regarded by crofters as "complicated" and "inflexible".