Cutting torch sparks likely cause of Inverness blaze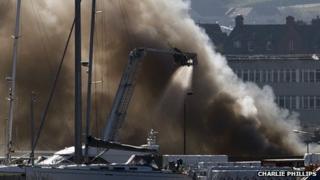 One of the largest fires ever tackled by Highlands and Islands fire service may have been started by sparks from a cutting torch, police have said.
The blaze at a scrap metal dealers in Inverness, started at about 09:00 on Tuesday and crews remained at the scene until late afternoon.
Smoke from the fire in Longman Drive could be seen for several miles.
A joint investigation by firefighters and police has now ruled out any suspicious circumstances.
No-one was injured in the incident which at its height saw 55 firefighters tackling the flames.
Northern Constabulary said: "Following this investigation, it would appear that the fire may have been caused by sparks from a cutting torch and there are no suspicious circumstances associated with this fire.
"This was one of the largest fires in Inverness that Highlands and Islands Fire and Rescue Service has dealt with in recent years."