HMS Illustrious to take part in Joint Warrior after repairs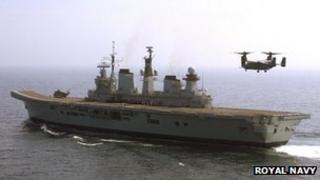 A Royal Navy helicopter carrier damaged in a collision with a tug during training is scheduled to take part in Nato's Exercise Joint Warrior.
HMS Illustrious sailed to Portsmouth for repairs after its hull was punctured above the waterline in Norway last month.
The Royal Navy said the vessel's sea worthiness was not affected. No-one was injured in the incident.
Joint Warrior later this month involves manoeuvres off Scotland's coast.
Armed forces from the UK, USA, Germany, Holland, France, Norway, Denmark and Canada will take part in the training.
HM Naval Base Clyde, RAF Leuchars in Fife and RAF Lossiemouth in Moray will provide bases for navy and air crews.
A detachment of French Alpha jets and RAF Hawks and Typhoon aircraft will fly from Leuchars.
Nine maritime patrol planes, including Canadian and US P3s and French Atlantique II aircraft, will be based at RAF Lossiemouth.
Fishermen have been warned to expect GPS to be jammed for periods during the exercise.
It will take place from 16-26 April.