Mitsui takes stake in Global Energy Group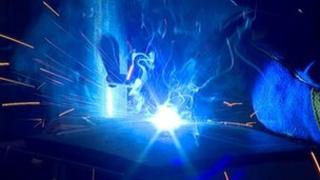 Japanese corporation Mitsui & Co has taken a 25% stake in Scottish company Global Energy Group.
The MacGregor family, including Global's founder and chairman Roy MacGregor, hold 75% of the shares in the new venture.
An energy industry service company, Global has head offices in Inverness and Aberdeen and owns the Nigg fabrication yard in Easter Ross.
The deal has been welcomed by the Scottish government.
How much Tokyo-based Mitsui's investment in Global is worth has not been disclosed.
The two have previously worked together on projects, and the new deal will focus on expanding Global's existing fabrication work for the oil and gas and offshore renewables industries.
Roy MacGregor, who is also chairman of Ross County FC, said the partnership would mean the creation of new jobs.
He said: "This is a hugely important step for the Global Energy Group, which we are confident will help us to continue to develop and elevate our business to new levels.
"We are very excited by the new opportunities we know will open to us in the UK and internationally through working together with a multi-national company of the standing of Mitsui.
"As a Scottish company, we are passionately proud of the contribution we make to the country's economy, the jobs we create and the training we deliver."
'Trillion pound'
Mr MacGregor added: "We believe this new chapter in our development will see us build on our strong track record by creating more job and career opportunities and bringing new skills and knowledge to Scotland."
Mitsui's European senior vice president, Noboru Katsu, said its investment would help Global to expand.
He added: "We do not see this investment as purely Mitsui taking an equity share in the business, but rather we see ourselves as an industrial partner to aid the industrial growth of Global both at home in Scotland, the UK and on an international basis."
Finance Secretary John Swinney said the deal was further evidence of Scotland's international standing in oil and gas and offshore renewables.
He said: "This investment is helping to transform Scotland's industrial base at the same time as confirming confidence in the long-term prospects of our trillion pound plus oil and gas industry.
"The partnership of ambition and engineering expertise that Global Energy Group and Mitsui have forged will create more jobs and career opportunities and build on our existing skills base."
Importing rice
Global Energy Group was founded in 2005. It has an annual turnover of more than £200m and a world-wide workforce of more than 3,500 people.
Founded in 1876, Mitsui's early business was importing rice and cotton yarn spinning.
At the end of World War II it was dissolved along with other Japanese companies. A new Mitsui & Co was launched in the 1950s.
The corporation describes itself as one of the world's most diversified comprehensive trading, investment and service companies.
World-wide it has a network of 154 offices in 67 countries and 15 business units ranging from shipping and aerospace to chemicals and steel.
The new partnership will see Mitsui have two places on Global Energy Group's board of directors.