Fort Augustus man Gerard McNally may have died after taking poison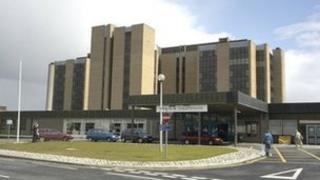 A man under investigation for alleged sex offences may have died after taking poison used to kill moles, a fatal accident inquiry (FAI) has heard.
Gerard McNally, of Fort Augustus, was taken to hospital after he collapsed in an Inverness police station toilet.
He died at the city's Raigmore Hospital on 13 August 2010, about two and a half hours after his arrest at his home.
Mr McNally's daughter Alice, 18, told the FAI that her father had kept a pest control in a kitchen cupboard.
Alice's sister Amy, 21, also described the morning of their father's arrest to the inquiry.
She said: "Police gave dad a document to read, but because he couldn't read, mum read it to him.
"Then he sat and moaned about not getting a cup of tea and he walked into the kitchen to get a cup of water.
"The police said they were going to handcuff him but he wanted to say goodbye to us.
"He gave me and mum a kiss and a hug as they took him away and he said 'I don't think I will last that long.'
"He had always said he was frightened of going to prison."
'Powdery substance'
Police officers told the FAI how Mr McNally, 48, was accompanied by an officer into the kitchen for a drink of water.
The inquiry heard that Mr McNally appeared to became unwell on the journey to Inverness.
An officer went back to his home to collect a spray for angina.
After Mr McNally mentioned poison, police again returned to Mr McNally's home and found a container with tablets inside.
Officers sought advice from staff at Raigmore Hospital.
Det Sgt Eddie Ross told the FAI that Mr McNally collapsed in a police station toilet and asked for an ambulance.
The officer said: "He had lost control of his faculties and his functions but able to answer questions.
"When the paramedics arrived, they checked him over and said they were extremely concerned because he had a powdery substance on his bottom lip and they thought he had taken something.
"When Mr McNally was put into the ambulance I told him he should tell the medical staff what he had taken.
"I was at the hospital and a lot of staff were working on him. I knew he was extremely ill. I knew at some point then that he told staff that he had taken something like a mole-killer."
The inquiry before Sheriff Margaret Neilson continues.