New Forestry Commission Scotland apprenticeships created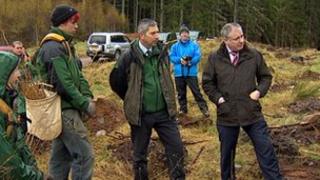 Almost 36 new apprenticeships are being created by Forestry Commission Scotland using an £840,000 grant.
The money from the European Structural Fund was announced by Environment Secretary Richard Lochhead during a visit to Laiken Forest, near Nairn.
The Scottish government wants to make 25,000 new apprenticeships available in each year of the current parliament.
Mr Lochhead said forestry was among traditional rural apprenticeships the government was supporting.
He added: "Forestry not only contributes £670m to Scotland's economy each year but also provides vital rural employment so it's important that we equip people with the skills they need for this industry.
"These Forestry Commission Scotland apprentices are involved in two year training programmes which will equip them with valuable skills and experience that can not only shape their future career paths but also keep their talent within Scotland's rural sector."
Apprentice Megan Robertson, from Oban, is one of the first to be taken on. She said she was confident about her future career prospects.
She said: "You get training in all the practical skills you would need to do a forest craft person job, which is the job I really want to do.
"From there you can go on and do other things such as harvesting.
"There is more diversification in forestry now - there is conservation and tourism. It is not all about planting trees and harvesting any more."