Writer of 1930s love letters found in canal was Inverness teacher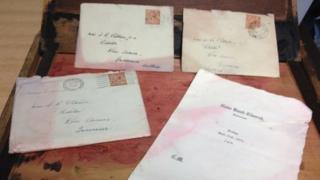 Love letters from the 1930s which were found floating in a wooden box in a canal were written by a man who went on to become a teacher, it has emerged.
The box was recovered from the Caledonian Canal at Dochgarroch, Inverness, in December last year.
Police have been trying to trace the relatives of Robert Wright, who wrote the letters to Sarah Paterson, who went on to become his wife.
Inverness Royal Academy said Mr Wright had taught at the school for 27 years.
He retired in 1974 and was understood to have died in his late 90s in 2007.
Charles Bannerman, a teacher at Inverness Royal Academy, said the Wrights' children Rosemary and John were pupils at the school.
Mr Wright sent the letters from Catterick, Aldershot and Edinburgh in the 1930s.