Twelve ill in Fort William rogue drugs scare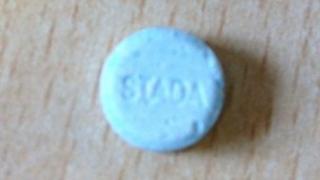 Twelve people have become ill overnight in a Highland town in an incident being connected to drug taking.
Police and local health professionals have issued an urgent warning after people taking tablets suffered an "extreme reaction".
All have been admitted to Belford Hospital in Fort William since Saturday evening.
Those affected are thought to have believed they were taking valium tablets.
Fort William has a population of around 10,000 people.
Police have released an image of one of the tablets.
They are blue with writing on one side, although officers warned that some of the tablets may be brown.
Symptoms associated with the drugs included unconsciousness, unresponsiveness, nausea and dizziness.
Staff at NHS Highland have advised anyone with the symptoms to seek urgent medical advice.