Witness and grandson to help remember war-time sinking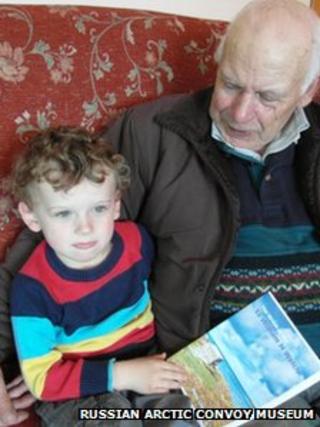 A man who witnessed efforts to save sailors on a US liberty ship that sank in a storm off Wester Ross in World War II is to help commemorate the event.
John Murdo Mackenzie was 12 when the SS William H Welch went down off Foura and Black Bay on 26 February 1944.
Seventy-four American sailors died and 12 were saved by local crofters who walked over bogs in a snow storm to bring aid to the survivors.
Mr Mackenzie and his grandson John, three, will carry a wreath on 7 May.
They will hand it to the crew of a Maritime and Coastguard Agency helicopter crew to be dropped over the wreck site.
Loch Ewe, in Wester Ross, was a gathering point during the war for Allied cargo vessels delivering supplies to Russia.
During a week of events marking the Russian Arctic Convoys, Steve Chadwick, who wrote a book at about the SS William H Welch disaster, will lead a guided walk along the coast near the wreck site.
Mr Mackenzie and his wife Chrissie were interview by Mr Chadwick for the book.
The couple and their grandson John are expected to join the walk. The wreath will be delivered to the coastguard helicopter crew during the event.
Survivor Russell Ross returned to the scene of the sinking in 2005 and had hoped to visit again, but ill health means he is unable to travel from the US.
He said: "The people of the Loch Ewe community were wonderful as they brought us things.
"John Murdo McKenzie was 12 years old at the time, and it was his mother who had taken me into her home, and who wrote a letter to my mother to tell her that I was among the survivors."
Liberty ships were built cheaply in their thousands by the US to deliver weapons to the Allies and its own forces.
President Franklin Roosevelt dubbed the cargo vessels "ugly ducklings".
Mr Mackenzie saw first-hand the efforts to rescue sailors from the SS William H Welch, which had got into difficulty during a storm.