Toxic bracelets sold Highlands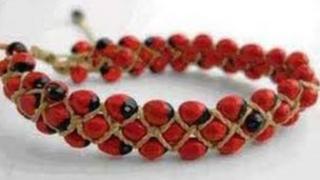 Trading standards officers believe people in the Highlands have bought bracelets which contain potentially lethal seeds.
The jewellery has been made by stringing together red and black abrus precatorious plant beans.
The beans themselves are safe, but piercing them can expose seeds inside.
The seeds contain the potentially fatal toxin abrin, which trading standards officers said was chemically similar to ricin.
The bracelets were imported from Indonesia by Rainstick Trading, of Saxmundham, in Suffolk, which has issued a recall.
Gordon Robb, Highland Council's trading standards manager, said: "We contacted the three Highland retailers known to have been supplied by the importer to ensure all stocks of the bracelets were removed from sale and customer recall notices displayed in the shops, until test results were obtained.
"However, now we are fully aware of the hazards they represent we are concerned that some consumers may have these products at home, perhaps bought from shops or websites based outside the Highlands, and we want to warn them of the risks these pose."
Trading standards said abrus precatorius has other names including jequirity, crab's eye, rosary pea, John Crow bead, precatory bean, Indian liquorice, akar saga, giddee giddee and jumbie bead.
People and shops that suspect they have the bracelets should contact the department on 0845 600 4222, or email trading.standards@highland.gov.uk.
Ricin is extracted from castor beans, which are processed throughout the world to make castor oil.
The ricin toxin is part of the waste "mash" produced when castor oil is made. It can cause harm if injected, swallowed or inhaled.
A tiny quantity can be lethal, but the amount needed to kill depends on the route of administration.