Study to examine climate impact on pine trees from ancient forest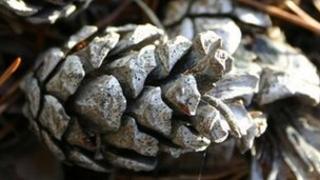 Scientists are attempting to understand how trees from Scotland's ancient Caledonian forest fare in different climates.
The James Hutton Institute has gathered seeds from 21 native pinewoods in what remains of the forest.
Saplings are being planted at Inverewe Gardens on Wester Ross's damp and mild coast.
A similar project is to be run in Aberdeenshire where the climate is sunnier, but cooler and drier.
The James Hutton Institute said scientists were not clear on how the trees would respond to the different climates.
One of the areas they hope to better understand is how differently the trees in Wester Ross and Aberdeenshire support other life, including fungi and insects.
Project leader Dr Glenn Iason said: "I am hugely grateful to the staff of the National Trust for Scotland at Inverewe Gardens for helping to care for the saplings for the last four years and for the opportunity to plant them on the Inverewe Estate.
"I would very much like to still be alive when the trees are fully grown to see the benefits of the work."
The institute said the Caledonian pine forest had covered much of north and west Scotland, but was lost to tree felling over several centuries.
Parts of the ancient woodland still survive in the Highlands, providing habitat for rare invertebrates and birds such as the Scottish crossbill and capercaillie.