Delays prevented Lewis leg break patient from eating for days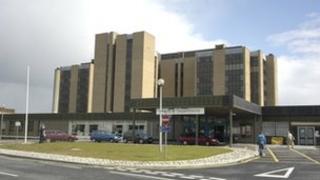 A mechanic from Lewis went without food for four days while waiting for an operation on his badly broken leg.
A series of delays to air ambulance transfers - coupled with bed and medical kit shortages - meant James MacLeod's surgery kept being put back.
He broke his leg in a work accident last Tuesday, but did not undergo surgery in Inverness until Sunday.
NHS Western Isles said there were "flight scheduling and technical difficulties".
Early on during his ordeal Mr MacLeod, 24, was offered food but he felt too sick from a treatment of morphine to eat.
Later, he and medical staff believed that he would be operated on within a short time and, because he would be given an anaesthetic, was advised not to eat anything.
However, a series of problems dogged Mr MacLeod's transfer from Lewis to Inverness for surgery.
Severe fractures
After waiting an hour for an ambulance after his accident, he was taken to the Western Isles Hospital, where he was seen by an orthopaedic consultant.
Despite severe fractures of his leg, he was told surgery could not be done until Friday morning as there were no steel pins available and they would need to be ordered in.
After pressure from his family, a decision was then taken to fly Mr MacLeod to Inverness for treatment at Raigmore Hospital.
He was told not to eat ahead of his planned operation the next day - but it later emerged that no bed was available at Raigmore so his air ambulance was re-scheduled for Thursday morning.
However, as the air ambulance headed towards Inverness Airport the warning systems of the plane indicated the landing gear had not properly engaged.
Due to poor visibility, control tower personnel were unable to give any visual indication, so a decision was taken to re-route to Aberdeen.
Visibility was no better on the east coast so an emergency landing was made.
It later emerged the warning light was caused by an instrument defect rather than faulty landing gear.
Mr MacLeod had to wait a further three-and-a-half hours for a second air ambulance, that had arrived in Aberdeen from Glasgow, to take him and a seriously ill patient to Inverness.
He eventually had his operation on Sunday.
His father Murdo MacLeod, who accompanied his son during the transfers, said there was no criticism of the care provided by the front line staff.
But he added: "There was clearly a complete breakdown in communications.
"There was a lack of communication between the hospitals. There was a lack of communication with the air ambulance. There was just a complete lack of a co-ordinated approach."
NHS Western Isles confirmed that there were flight scheduling and technical difficulties which resulted in the plane being re-routed to Aberdeen.
A spokesperson said the health board could not comment further.
A Scottish Ambulance Service spokesman said: "Unfortunately the aircraft experienced an instrument problem and as a result diverted to Aberdeen.
"Clearly, this resulted in the patient's journey taking longer than it should have and we are sorry for any discomfort that they experienced.
"We would be happy to discuss the matter in detail with the patients involved."