Grampian Police chief considers applying to lead single Scottish force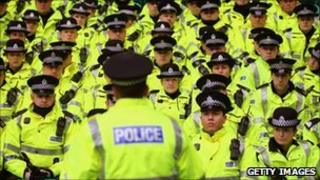 The chief constable of Grampian Police has said he is not ruling himself out of applying to become the first head of a single police force in Scotland.
Colin McKerracher, who was due to retire this summer, said that after 40 years in policing he would consider himself a strong candidate for the job.
Strathclyde chief constable Stephen House is considered favourite.
The new Police Service of Scotland is due to be set up next year, replacing the existing eight forces.
Chief Constable McKerracher said: "Over the past few weeks I have been asked by many people locally and across Scotland if I would consider applying for the role as chief constable of the new Police Service of Scotland.
"To date there is no formal process in place for appointment of the role and at this stage I have not ruled myself out from challenging for the post.
"With 40 years experience of policing in Scotland, including service in the largest force and an understanding of the concerns of communities remote from the central belt, as well as recognition for my contribution to national development in policing, I consider I would be a strong candidate for the position."
In a joint statement with Northern and Dumfries and Galloway chief constables a year ago, Chief Constable McKerracher said there was a "lack of hard evidence" in favour of merging Scotland's eight forces, saying it would not achieve the community-focussed policing needed.
After meeting Justice Secretary Kenny MacAskill, he said he had received personal reassurances over the operation of the new force, but highlighted the specific geographical challenges of the north east of Scotland.
Single forces for Scotland's police and fire services are expected to begin operating on 1 April next year.
The new interim police HQ will at the Scottish Police College in Tulliallan in Fife and the unitary fire HQ will be at Perth Community Fire Station.