Inverness restaurant owner Thomas Eccles jailed for rape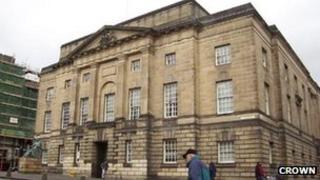 A former restaurant owner has been jailed for four years and two months for assaulting and raping a woman in Inverness.
Thomas Eccles, 46, of Inverness, denied the attacks and said the sex was consensual, but he was convicted after a trial at the High Court in Inverness.
He repeatedly punched his victim, forced her to perform sex acts on him and raped her in September 2010.
Eccles was jailed at the High Court in Edinburgh.
The trail heard that during her ordeal, the woman cried and asked Eccles to stop.
But he ignored her pleas for mercy and continued to abuse her.
After the attack ended, the woman went to a nearby supermarket and told a security guard about what happened to her.
At the High Court in Edinburgh, defence solicitor advocate Gordon Martin said that it was the first time his client had been in trouble with the law.
He added: "He has lost everything that he has worked for throughout his life.
"He had a business. He knows his life is ruined."
Judge Lord Bannatyne told Eccles that he would spend the rest of his life on the sex offenders register.