Scottish air ambulances grounded amid safety fears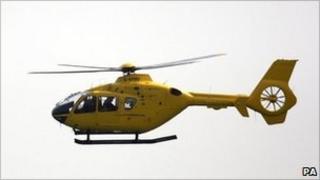 Scotland's two air ambulance helicopters have been grounded amid safety fears over the aircraft.
The Scottish Ambulance Service said the move had been taken as a "precautionary measure" by operator Bond Air Services.
The service said it hopes to return the aircraft to normal operations on Wednesday morning.
In the interim, the ambulance service said air transfers would be carried out by Coastguard and military helicopters, or by fixed wing aircraft.
A similar safety concern has grounded the Strathclyde Police helicopter, and another aircraft operated on behalf of the Northern Lighthouse Board.
Last month it emerged that the European Aviation Safety Agency had ordered daily safety inspections to be carried out on the EC135.
This came after the manufacturer, Eurocopter, was told to establish the cause of a crack found on the main rotor of a Scottish air ambulance.
Contingency measures
The Scottish Air Ambulance Service has two of the helicopters, which are based at Inverness and Glasgow.
A spokesman for the Scottish Ambulance Service (SAS) said it had been told on Monday afternoon that Bond Air Services had suspended all EC135 flights as a precaution.
"The company has taken the decision as a safety measure following receipt of a Safety Information Notice from Eurocopter, which was followed by further reports identifying cracks on the lower hub shaft flange on the EC135," said the SAS spokesman.
"The Scottish Ambulance Service is operating contingency measures whereby any patient that requires transfer by air will be taken by Coastguard and military helicopters, or SAS fixed wing aircraft.
"Bond is awaiting further advice from Eurocopter once investigations to identify the cause of the cracks have been carried out. There are no faults with the rotor hub on either of the two air ambulance helicopters in Scotland."