Aristocrat's 1800s photographed scenes to be acted out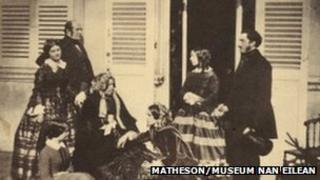 Scenes photographed in the 1800s by an opium trader's wife are to be acted out during a museum's events in the grounds of her former island home.
Mary Jane and James Matheson, who made his fortune exporting opium from China and India, had Lews Castle built in Stornoway on Lewis.
Lady Matheson's photographs featured picnics, hunts and family gatherings.
Museum nan Eilean will invite families to re-interpret and act out some of the scenes later this month.
The events on 18 and 19 May are being held as part of Scotland's Festival of Museums.
Lews Castle was constructed as a residence for the Mathesons, with the work starting in 1847.
It cost £60,000 and took seven years to complete, according to Stornoway Historical Society .
William Lever, whose family business went on to become food and household products maker Unilever, owned the castle from 1918 to 1923.
He installed central heating, electric lighting and internal telephones and extended the ballroom to accommodate his parties.
During World War II it served as a naval hospital and accommodation for the air and ground crew of 700 Naval Air Squadron who operated a detachment of amphibious bi-planes from a slipway in the castle grounds.
Disused since 1988, about £14m is being spent on restoring and converting the property into a museum and four-star hotel accommodation.
The site will use Gaelic as its first language and is expected to open in 2014.