Portree and Lochmaddy in Crown Estate pilots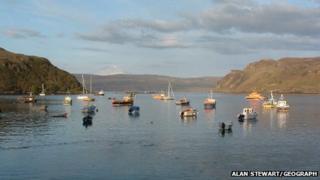 The Crown Estate has given two communities greater control of how their coastline is managed.
Portree Moorings Association on Skye and Comann na Mara at Lochmaddy, on North Uist, are taking part in the pilot projects.
The organisations are testing Local Management Agreements.
In March, MPs said the Crown Estate's control of 50% of Scotland's coast and almost all the seabed should be devolved to local authorities.
The Crown Estate said the pilots were a response to that call.
Local Management Agreements give Portree Moorings Association and Comann na Mara time to develop proposals for their coastlines.
They will also be able to apply to obtain the right to manage the land for the longer term on a commercial basis.
Gareth Baird, the Crown Estate's Scottish Commissioner, said the pilots were "innovative".
Lacked transparency
Danny Alexander, Chief Secretary to the Treasury and an MP in the Highlands, said it was a welcome move.
He said: "These pioneering projects will give people living and working on the coast real control over the coastline and allow them to work with the Crown Estate to manage it for the benefit of the local community.
"I look forward to many more such agreements being introduced across the country to give local communities around the country's coast the power to shape development in their area."
The Crown Estate owns the rights to the sites of fish farms, renewable energy developments, ports and marinas.
MPs on the Scottish Affairs Committee said in March that the management of the marine environment lacked transparency and public consultation.
The committee said the UK government should commit to having the Crown Estate's marine responsibilities and rights related to Scotland devolved to the Scottish government, on condition the powers were further devolved to local level.