SSE committed to 'robust' projects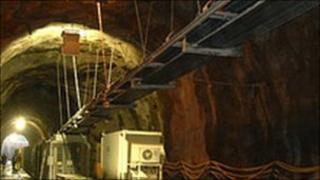 Power company SSE has said it remains committed to building "robust assets" despite problems with its £140m Glendoe hydro scheme in the Highlands.
The plant, near Fort Augustus, was officially opened by the Queen in June 2009, but operations were suspended in August that same year.
Work was stopped following a rock fall in a tunnel carrying water from a hilltop reservoir to a massive turbine.
Electricity generation is expected to resume this summer.
In SSE's 2012 Full Year Results Statement, chairman Lord Smith of Kelvin said the company would continue to pursue major projects.
He said: "SSE remains committed to constructing robust assets, from which revenue can be generated on a reliable, long-term basis and which deliver profit to support future dividend growth.
"This entails rigorous scrutiny and control of the costs of large capital projects and a clear focus on the return which completed projects should generate.
"In line with this, SSE keeps the economic evaluation of its investment programme under close scrutiny to ensure that it continues to make the right investment decisions."