Diamond Jubilee: Clemency sought for Jacobite descendants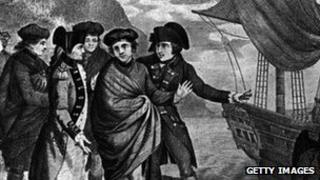 The Queen has been asked to set aside legislation that punished Jacobite sympathisers and all their descendants.
Found guilty of treason, attainders were described as having tainted blood.
It meant they and generations of their families that followed them were barred from owning, or inheriting property, and of ever holding public office.
A petition is to go to the Queen asking that families attainted after the defeat of Bonnie Prince Charlie and his Jacobite followers in 1746 be absolved.
While there is no evidence of the punishment having any effects today, campaigners believe the Diamond Jubilee is the ideal time for clemency.
In 2009, the Queen became the first British monarch to set foot on Culloden battlefield - the site of the Jacobite defeat 266 years ago.
Genealogist Hugh Peskett said attainders faced the shame of passing the punishment to their children, grandchildren and on to future generations.
He said: "All their property was forfeit and they were tainted in blood, which meant that passed to their heirs.
"They couldn't own property, they couldn't hold public office. Anyone convicted of treason was attainted."
Campaigner St Clair Bonde, whose ancestors were attainted, said he wanted the stigma lifted from his family.
He said: "These families and their successors still have this taint.
"Strictly speaking, these families that have attainted, today, after 300 years, are not really allowed to inherit."
State apology
Before he became prime minister, David Cameron was reported in The Times to be sympathetic to the idea of pardoning Jacobite nobles persecuted during and after the '45 uprising.
At Culloden members of Clan Cameron - led by Donald Cameron of Lochiel - fought on the Jacobite side against the government army.
Last year, a state apology was sought for the actions of government forces following Culloden.
Members of A Circle of Gentlemen said they would march from Derby to London to deliver a petition to 10 Downing Street backing their call.
The group has its roots in a secret society which remained loyal to Bonnie Prince Charlie.
Following Culloden, Jacobite supporters were executed and imprisoned and homes in the Highlands were burned.
The actions resulted in the Duke of Cumberland, who led the government troops, being nicknamed the Butcher.
A campaign was launched in the months following Culloden to suppress further risings, but it was marked by hangings, executions by firing squad and the burning of property.