Ex-Highland Airways flight deck used in Batman returns to Highlands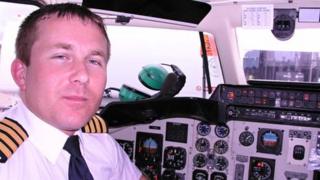 The flight deck of an aircraft used in the new Batman film has been purchased by a pilot who flew at the controls for eight years.
The Prestwick-built Jetstream 31 had been owned by Highland Airways and was flown on routes in Scotland and Wales.
The airline collapsed in 2010 and its aircraft were sold, leading to the plane, registered G-UIST, being used in the making of The Dark Knight Rises.
Pilot Paul Gibbs, 38, has bought the flight deck from the production.
The former Highland Airways pilot hopes that it can be put to use as an educational tool and inspire children to pursue future careers in the aviation industry.
It emerged last week that the fuselage of G-UIST was used in scenes shot in the Highlands for The Dark Knight Rises.
Inverness-based Highland Airways collapsed with debts of £4.5m after a potential rescue deal fell through.
Highland Airways operated a fleet of nine aircraft, running services between Cardiff and Anglesey, Stornoway and Benbecula in the Outer Hebrides and Oban and the Inner Hebrides.
Its other activities had included delivering newspapers to some Scottish islands, corporate staff shuttles and air charter.
The company's problems came to light at the start of 2010 after severe weather led to cancelled flights and worsening debts.
Last Friday, administrators PriceWaterhouseCoopers (PwC) confirmed the sale of G-UIST for use in the movie.
Mr Gibbs, who lives near Inverness, spent about 18 months in discussions with The Dark Knight Rises' production team about buying the flight deck.
He said: "G-UIST was used for internal cockpit shots during spectacular stunt sequences, and is the only partially surviving Jetstream left from the six taken for film use.
"The other aircraft were ex-military and were dropped from the air and destroyed."
A captain with the airline Flybe, Mr Gibbs flew G-UIST on routes in Scotland and elsewhere.
He said: "At Highland Airways, the aircraft was used as the primary aircraft on the Stornoway to Benbecula Island hopper route, as well as the newspaper delivery aircraft for the islands.
"It also spent time flying on charter work around Scotland and Scandinavia carrying oil industry personnel amongst others.
"It spent the last year of its flying career serving Welsh passengers on a route linking Cardiff and Anglesey, and also for Bae Systems as a staff shuttle bus between military airports."
Mr Gibbs plans to return the flight deck to how it looked when the aircraft was flown by Highland Airways.
He has still to make a decision on its colour scheme. It had been green, white and black but was painted a dark grey from the film.
Eventually, the flight deck could tour schools.
Mr Gibbs said: "The opportunity for youngsters to sit in a flight deck these days is rare.
"Current security restrictions prevent this from happening in the air, and time on the ground is so short between flights that this limits it too."
He added: "Many current pilots have been motivated by their childhood cockpit visits and it is hoped that this roving exhibit will continue that, as well as educate about aviation matters generally."
The Dark Knight Rises will be released this summer and stars Christian Bale as Batman, Anne Hathaway as Catwoman and Tom Hardy in the role of villain Bane.
Gary Oldman and Joseph Gordon-Levitt also star.
Its British director Christopher Nolan directed two previous Batman movies, as well as the films Inception and Memento.