Ferry and lifeboat help fight fire on Tanera Mor in Summer Isles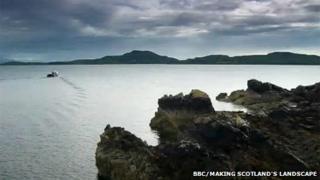 Firefighters used a small ferry and a lifeboat to reach a wild fire on an island in Wester Ross.
At its peak, the heather and scrub fire was burning along a half mile front on Tanera Mor in the Summer Isles.
A senior officer and 16 firefighters travelled to the blaze on Thursday in Lochinver lifeboat. Three others crossed from the mainland on the ferry.
Deputy Chief Fire Officer Stewart Edgar said he had been impressed by the actions of the fire crews.
Tanera Mor has at least two permanent residents who are joined on the island by holidaymakers at various times.
Retained crews from Achiltibuie, Ullapool and Lochinver were sent to the scene after the alarm was raised at about 18:30.
Lochinver RNLI and the ferry MV Patricia, piloted by its owner Richard Williams, ferried the fire crews to Tanera Mor.
Mr Edgar, of Highlands and Islands Fire and Rescue Service (HIFRS), said: "The uniqueness of this incident goes without saying.
"Our control staff put well rehearsed emergency procedures in place and our firefighters did an excellent job of bringing the fire under control quickly.
"I am very impressed by our response and I would like to thank all HIFRS staff who were involved.
"I would also like to express my thanks to the coastguard, RNLI at Lochinver and Mr Williams for providing the ferry to enable our firefighters to access the island."
The blaze was the latest in a number of wild fires HIFRS has dealt with this year.
Its crews tackled more than 100 between 21 and 31 March.
Snow in April brought some relief, but warm and drier weather since has led to further blazes.
One incident in April lasted for 21 hours and involved 11 appliances from nine stations.
Dealing with the incident cost HIFRS £73,378.