Western Isles Council wins school closure judicial review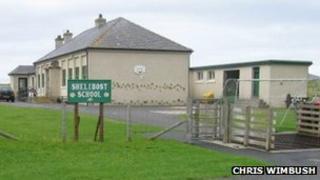 A judicial review has found in favour of a council's challenge to a Scottish government's decision preventing it from closing four schools.
Comhairle nan Eilean Siar (Western Isles Council) will now look again at the schools' futures.
The comhairle previously said it could not afford to keep open Carloway and Shelibost primaries and continue S1 and S2 education at Shawbost and Lionel.
Scottish Ministers had contested the comhairle's legal challenge.
A number of options for the schools will be discussed at the local authority's education and children's services committee next Tuesday.
Committee chairwoman Catriona Stewart said it was right that the judicial review had found in the comhairle's favour.
She added: "This decision allows us move on and work together with our communities to provide the best education possible in the best possible buildings for our children."
Education Secretary Michael Russell said the government would consider the judgement in detail.
He said: "This judgement applies a wider scope to ministerial decision making than has existed to date, and indicates that Ministers should look at the merits of school closure, not just the process."
Mr Russell added that the implications of the judgement would be referred to the Commission on the Delivery of Rural Education.