Scottish independence: Al Fayed would apply for Scots passport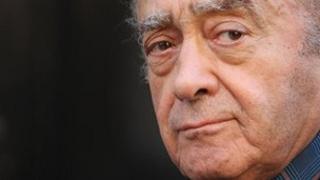 Former Harrods owner Mohamed Al Fayed has said he would apply for a Scottish passport, if Scotland becomes independent.
The businessman is the principal shareholder in Ross Estates, also known as Balnagown Estates, in the Highlands.
Egypt-born Mr Al Fayed has previously applied for a UK passport.
In 1999, his application for one was rejected by Home Secretary Jack Straw, and he failed to overturn this on appeal.
On a visit to Invergordon, in Easter Ross, Mr Al Fayed said an independent Scotland would give him an opportunity to apply for a Scottish passport.
Speaking to opponents to a £43m waste incinerator planned for the town, he said: "I will ask for a Scottish passport and I will be your president."
Mr Al Fayed has in the past suggested that he would like to spend his retirement in Scotland.
He told BBC Radio Scotland in 2008 that his interest in the country had been sparked at school, when he read a history book that suggested Scotland had been discovered by an Egyptian princess called Scota.
Mr Al Fayed at the time described Scotland as a political "zombie of the south", arguing that the country had to "take instruction" from Westminister.
"When you are free and independent, I am going to move there," he added.
A Scottish government-appointed official is holding a public inquiry on the incinerator in Invergordon.
The project's developer, Combined Power and Heat (Highlands) Ltd, and opponents of the plans will give evidence.
The government gave the proposals planning permission in 2010, but Ross Estates appealed against the approval.