Curtis Cup and RockNess get under way in the Highlands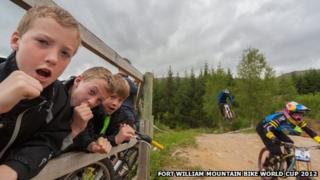 Two of the four major events taking place in the Highlands this weekend are now under way.
The Curtis Cup women's golf competition has started at Nairn and the gates have opened at the RockNess music festival at Dores.
They will be followed on Saturday by the UCI Mountain Bike World Cup near Fort William and the arrival the Olympic torch in Lochaber.
Thousands of people are expected to attend each of the events.
Contested by teams representing the Great Britain and Ireland and US, the Curtis Cup attracted about 8,000 spectators when it was held at St Andrews in 2008.
The tournament finishes at Nairn Golf Club on Sunday.
RockNess draws about 35,000 over the three days it is held. Headline acts include Ed Sheeran, Annie Mac, Deadmau5 and Biffy Clyro.
UCI Mountain Bike World Cup organisers expect 20,000 people over Saturday and Sunday.
On Saturday, torchbearers will carry the Olympic flame from Glencoe to Inverness , where a two-hour party will be held in the Northern Meeting Park.
The park held 10,000 people at last year's free Hogmanay celebrations, and large numbers are expected at Saturday's party.