Dualling A9 from Inverness to Perth 'should be priority'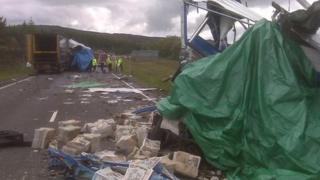 Making the A9 dual carriageway all the way from Inverness to Perth should be a Scottish government priority, the Conservatives and Lib Dems have said.
Figures obtained by Tory MSP Murdo Fraser suggest more people died on the road between 2006 and 2010 than on any other Scottish route.
The SNP said it was the only government to have committed to upgrading the 113.4 mile (182.5km) stretch.
It has spent £50m so far, with a plan to complete the project by 2025.
The A9 runs from Thurso in Caithness to Bridge of Allan, near Stirling. There are some sections of dual carriageway on the Inverness to Perth stretch, and it is fully dualled south of Perth.
Mr Fraser, MSP for Mid Scotland and Fife, had asked Transport Minister Keith Brown for figures on the 20 Scottish roads with the highest number of accidents and fatalities.
There were 67 fatalities and 1,206 accidents involving injuries on the A9 between 2006 and 2010.
Mr Fraser's Conservative colleague, Highlands and Islands MSP Mary Scanlon, said: "The figures relating to the A9 have been horrendous for a number of years.
"There is an increasing number of vehicles using the A9."
She said the Scottish government "should put its money where its mouth is" and accelerate the dualling of the road.
Scottish Liberal Democrat Jim Hume said the upgrade work should be a priority.
He added: "The sheer magnitude of the project stresses the need to publish the A9 upgrade timetable in full and immediately."
The Liberal Democrats and SNP clashed over the A9 upgrade last year.
Lib Dem MP and chief secretary to the Treasury, Danny Alexander, accused the Scottish government of focusing on central Scotland transport projects rather than improving the A9.
Mr Brown said Mr Alexander should ask his MSP colleagues why they had sought to spend £774m on a tram system in Edinburgh rather than spending money on other schemes, such as the A9.
Scottish government agency, Transport Scotland, said recent accidents on the road had highlighted the importance of improving the route.
Mark McFarlane, 38, and Barry Murray, 28, decorators from the Glasgow area, died in an accident at Ralia, south-west of Newtonmore, last Friday.
The previous week, Alex Russell, 37, of Moodiesburn, North Lanarkshire, and John Sommerville, 34, of Carluke, South Lanarkshire, died near Calvine, north of Blair Atholl.
A spokeswoman for Transport Scotland said: "Our thoughts go out to those who have lost loved ones on the A9 in recent weeks.
"As local MSPs are acutely aware, this government's plans to dual the A9 are very challenging and this represents one of the biggest infrastructure projects in Scotland's history.
"To put the sheer scale of the project in perspective, the work involved is 16 times the length of the M74 completion.
"However, given our track record on delivering major projects on time and on budget, we are confident of meeting this challenge."