Highlands and Islands fire crews praised for Lewis blaze efforts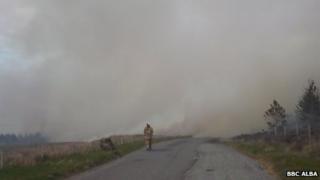 Firefighters have been praised for their efforts in tackling a heath fire that closed a main road on the Western Isles on Thursday.
Thick smoke from the fire in the grounds of Lews Castle in Stornoway, on Lewis, shut part of the A859 for several hours.
The flames destroyed trees and at one stage threatened to spread to an electricity sub-station.
MP Angus MacNeil said he applauded the emergency services' efforts.
He added: "The magnificent castle grounds is a place of rich heritage and of great importance to us all as islanders.
"The recent fires are of concern to us all."
Highlands and Islands Fire and Rescue Service crews were still on the scene on Friday monitoring for fresh outbreaks.