Islay whisky festival and Northern Isle oil work boosts Hial numbers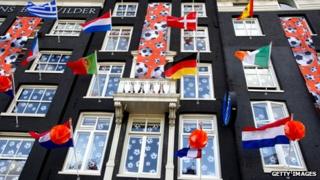 A whisky festival, oil industry work and an islands' schools project pushed up numbers using small airports across Scotland in May, an operator has said.
Highlands and Islands Airports Ltd, which runs 11 sites, said passenger numbers rose by 7.8% to 114,366.
The busiest included Islay during the isle's whisky festival, Sumburgh because of oil-related work and Stornoway due to school building work.
Dundee, however, reported a 11.3% fall in passengers.
Hial said this was because of reduced capacity on the airport's London City route, and a decline in passengers on its Belfast and Birmingham routes.
The operator said the fall in passenger numbers had been offset slightly by the earlier start this year of Dundee's Jersey charter route.
Growing demand
Inverness was the busiest airport in the group, reporting an 8.4% rise - 55,519 passengers.
Numbers were boosted by the continuing success of the city's service to Amsterdam in Holland and additional Gatwick flights, Hial said.
Seasonal flights to Düsseldorf in Germany and Zurich in Switzerland also started last month and were expected to increase international traffic through the summer.
Inglis Lyon, managing director for HIAL, said Sumburgh on Shetland had also benefited from international travellers thanks to its link with Bergen, in Norway.
He said: "The domestic market is also continuing to perform strongly, with growing demand for flights to Scotland's main cities and London Gatwick, which has become an increasingly attractive alternative to congested Heathrow."