Parents in protest over English post at Skye school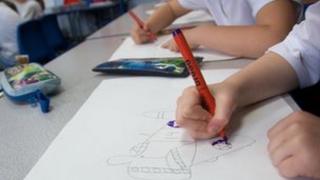 Parents of pupils at a school where Gaelic and English are taught have demanded that a permanent appointment is made to the English-language post.
A demonstration by parents of children going through English-medium education at Kilmuir Primary on Skye was held outside the school on Monday morning.
They said pupils have had seven probationary teachers in as many years.
Highland Council said it was "heavily engaged" in sorting out staffing at the school.
Parents said probationary teachers were not being allowed to stay in a more premanent role, and accused the local authority of putting budgetary concerns before the needs of the children.
The council said: "Kilmuir Primary School has had three probationer teachers in recent years.
"We are continuing to work on the staffing exercise across the council's schools and will contact the head teacher and parent council as soon as we are able to."