Lewis fire crews tackle fresh fire at Lews Castle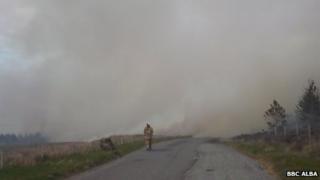 Firefighters have been tackling the latest in a series of heath fires in a castle's grounds on the Western Isles.
Last week, thick smoke from the fire at Lews Castle in Stornoway, on Lewis, shut part of the A859 for several hours.
The flames destroyed trees and at one stage threatened to spread to an electricity sub-station.
Trees were also destroyed in a heath fire that broke out in the castle's grounds on 8 June.