Earthquake recorded in Lochaber's 'Loch of Hell'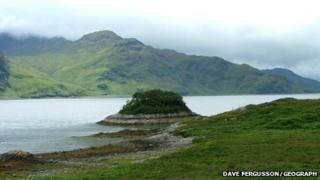 A small earthquake has been detected in one of the deepest sea lochs on the west coast of Scotland.
British Geological Survey recorded a quake of 1.1 magnitude on Saturday in Loch Hourn, which takes its name from the Gaelic for Loch of Hell.
Local community group, Glenelg and Arnisdale Development Trust, describe the loch as one of the world's most scenic places.
Ballachulish, also in the west Highlands, has had five earthquakes.
They occurred over several days between 6 and 19 June.