Ullapool to Stornoway swimmer encounters 'huge whale'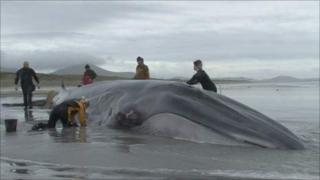 A man taking part in a charity swim of the Minch between the Scottish mainland and the Western Isles has had a close encounter with a "huge whale".
Saul Hindson is a member of an eight swimmer relay team that set off from Ullapool on Monday.
The team hopes to complete the 43 miles (69km) crossing to Stornoway on Lewis by Wednesday.
Mr Hindson said he came within 1.5m (5ft) of an unidentified whale in the early hours of Tuesday morning.
The swim team captain and his escort in a kayak nearby described the animal as "huge" and "a giant".
Whales seen off Scotland's west coast include pilot whales, which can reach 6.3m (20.6ft).
Rare sightings of sperm whales have also been made in the past. Bull sperm whale can grow to 20m (67ft) long.
In 2011, an 18m (60ft) animal, thought to have been a fin or a sei whale, died after it beached near Gerinish on South Uist.
The Big Minch Swim team is raising money for the RNLI to mark the 125th anniversary of the Stornoway lifeboat.