Ullapool to Stornoway Big Minch Swim completed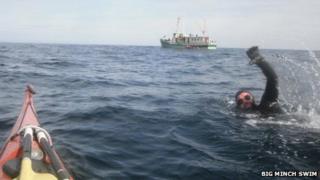 A charity swim team has completed its bid to cross the Minch from Ullapool on the Scottish mainland to Stornoway on Lewis in the Western Isles.
The Big Minch Swim in aid of the RNLI started at midday on Monday and was finished by 22:00 on Tuesday.
On the way they had close encounters with a large unidentified whale, porpoises, an orca and seals.
Team member Scott Connor said at one stage porpoises were swimming under and behind one of his fellow swimmers.
Eight people took it in turns in the water for 45 minutes at a time, before they all later got a chance to swim into Stornoway Harbour.
'Whale motorway'
Mr Connor said: "We had quite a few interesting encounters.
"One of the ladies in the team had an encounter with an orca. That was fantastic.
"One of the other boys in the team had porpoises swimming underneath him and behind him."
In the early hours of Tuesday, team captain Saul Hindson and his escort paddling next to him in a kayak came within 1.5m (5ft) of a "huge whale".
Charlie Phillips, of the Whale and Dolphin Conservation Society (WDCS), said the animal may have been a minke, or a fin whale.
He said the Minch had a rich biodiversity and orca, also known as killer whales, were among its large predators.
Mr Phillips said: "We've got a lady called Janet Marshall on Lewis who has seen quite a few orcas in the Minch.
"The Minch is a sort of whale motorway.
"It is a deep channel going all the way down to Skye and all kinds of things are being swept through it, attracting predators such as whales and dolphins.
"A new discovery has been that Risso's dolphins are now resident in the area."
The WDCS officer added: "Saul's experience with the large whale must have been amazing."