Highland Wildlife Park at Kincraig hits 40th year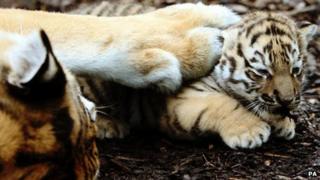 A wildlife park with polar bears and rare Amur tigers in its collection has been marking its 40th birthday.
The Highland Wildlife Park (HWP) was opened in 1972 by a group of private individuals.
The Royal Zoological Society of Scotland acquired the site in 1986 and it has gone on to play roles in efforts to conserve endangered species.
The park is the only place in the UK where the public can see polar bears. HWP has two males - Walker and Arktos.
There has been a long-term plan to eventually introduce a female mate for Walker, once he matures.
Walker was one of two cubs at the centre of a controversy last year over the BBC's Frozen Planet documentary series.
An episode featured the cubs in a den with their mother, with many people assuming they were born and filmed in the Arctic.
The BBC defended the footage, which was shot in a European zoo, and denied misleading viewers.
Highlights for HWP staff and visitors over the years has included the births of Scottish wildcat and Pallas's cat kittens as well as Amur tiger cubs.
The first elk to be born in Scotland for 1,000 years also made its appearance at HWP in 2009.
The park has attracted criticism in the past from campaigning group OneKind, formerly Advocates for Animals.
In 2006, a pack of six Mackenzie River wolves - a North American wolf - were put down because they were "not portraying their natural behaviour".
Two years later, a Japanese snow monkey was recaptured after it escaped from an enclosure.
The incident came just days after it emerged that three of the animals had died earlier in the year.
One monkey was killed by a rival and another was put down while a third drowned in the enclosure's pond.
In 2010, a female wolf escaped from its enclosure into another secure area. It was recaptured.
Following the incident, animal collections manager Douglas Richardson said public safety was never at risk, claiming that a pet hamster would have posed a greater threat of inflicting injuries than the escapee.
Daska Mackintosh, visitor services manager at HWP, said staff were excited to be celebrating the park's 40th.