Brave's Andrews and Sarafian 'changed by Scotland'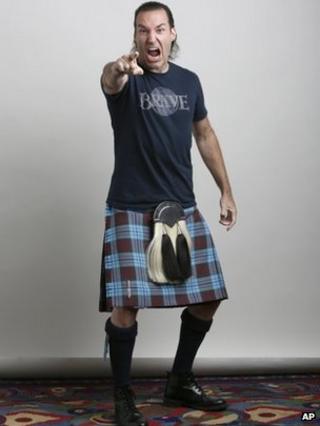 The US director and producer of Disney-Pixar's Brave have said their lives had been changed by their experiences of Scotland.
Mark Andrews, whose ancestors came from Torridon, Wester Ross, and Katherine Sarafian have spent weeks in Scotland working on and also promoting the film.
Producer Sarafian said she had come to appreciate that Scots "have a special connection with the land".
The pair were in Inverness on Sunday for a gala showing of the animation.
Andrews and Sarafian had previously visited the city during research trips that took them across the Highlands and the Western Isles.
Sarafian said: "We've been changed, absolutely.
"I know I had an impression of what Scotland would be like before I came here.
"But I didn't fully understand the special connection that the people have with the land - their sense of place.
She added: "Driving up to Inverness and seeing the landscape again was very emotional."
Andrews and his wife spent their honeymoon in Scotland in 1998.
He said: "For me it was nice to come back to Scotland and, on this latest trip, show my children this place that I had been talking about for so long."
Working on Brave allowed Andrews to indulge in his interest in medieval history, which began as a young boy playing mock sword fights with his friends.
'Teuchters speaking'
He said: "Like all boys I would pick up a stick and start smashing things.
"Boys naturally grow out of that, but I went the other way and became more interested in King Arthur and European history and then up into Scotland.
"My ancestors came from Torridon, but as you can tell it was so long ago that I lost the accent."
Sarafian believed Brave's story about a fictional long ago Highland princess and her relationship with her mother, originally devised by Brenda Chapman, would strike a chord with audiences.
She said: "It is a film for girls, boys, mums and dads.
"If the princess, Merida, and her adventurous ways provide some kind of role model for girls, that is great.
"But for boys too, it will open their eyes to the idea that girls can be adventurous."
Actor Kevin McKidd, who grew up in Elgin, in Moray, and voices characters Lord MacGuffin and Young MacGuffin, said he had been impressed by Andrews' knowledge of Scotland.
He said: "It's always the way, your visitors know more about the place just up the road than you do."
McKidd added that he was delighted Pixar had been open to his idea that Young MacGuffin spoke Doric, the Scots dialect of north east Scotland.
He said: "They wanted Young MacGuffin to be incomprehensible and we started thinking about making up some words.
"Then I told them about the dialect my grandfather spoke and showed them some YouTube clips of teuchters speaking about sheep. They thought it was great.
"But it had to be taken up the chain of command through Pixar and Disney before it was cleared that I could speak in Doric."