The Dark Knight Rises: Inverness bid to promote bats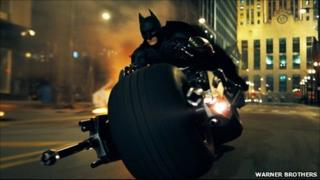 A bat conservation group is to use the new Batman film as a tool to promote greater understanding among cinema audiences about the flying mammals.
Inverness Bat Group will be at the city's Eden Court during the opening weekend of The Dark Knight Rises.
Scenes for the movie starring Christian Bale, Anne Hathaway and Tom Hardy were shot in the Highlands.
Inverness Bat Group member Dave Denoon said there were many misconceptions about the animals.
He said the release of The Dark Knight Rises offered an ideal opportunity to examine how bats are portrayed in fiction, and to give the real facts about them.
Mr Denoon added that Bruce Wayne, the fictional rich businessman who leads a double life as Batman, could have done with some pointers.
He said: "Bats are not as scary as people think, or as scary as the Batman makes out.
"Bruce Wayne adopted the bat as his symbol because as a child he was afraid of them, he wanted to use his fear against criminals.
"Bruce Wayne should have joined his local bat group and he would have realised there is nothing scary about bats, they are cute."
Mr Denoon added: "Bats do not get caught in your hair, and do not swoop at people."
The group will be at Eden Court on Friday from 20.15 to 21.15 and Saturday from 19.45 to 20.45.
The production of The Dark Knight Rises - expected to be the third and final Batman directed by Christopher Nolan - generated £1.1m for the local economy, according to a Highland Council report published in March.
A C130 transport aircraft used for scenes was based for several weeks last summer at Highlands and Islands Airports Limited's Inverness Airport.
Stuntmen and a film crew also made parachute jumps at an airstrip in the Cairngorms as part of the production.