Drifting yachts off Barra saved by lifeboat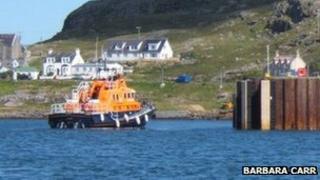 A rescue operation was launched off Barra after two yachts began drifting towards the shore in bad weather.
The alert was raised at about 02:15, after a mooring broke free in Castlebay harbour.
The local lifeboat and coastguard teams were called out and the coastguard rescue helicopter from Stornoway was scrambled.
Both yachts, one Norwegian and one British, were towed to safety by the lifeboat.
The four people on board the yachts were uninjured.
Carol Collins, watch manager at Stornoway Coastguard, said: "They were dragging a mooring and were heading straight for the shore.
"They needed assistance very quickly."