Milk protest at opening of Inverness Asda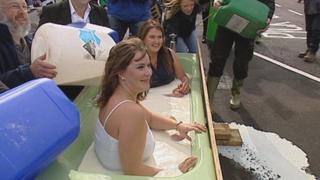 The opening of a new Asda store in the Highlands has been overshadowed by a demonstration of farmers angry about the prices they are paid for milk.
Nairn dairy farmer Steve Innes said Asda was among retailers that milk producers were unhappy with.
Two women sat in a bath of milk while others held placards as customers queued at the store's front entrance waiting for the doors to open.
Asda said it took its responsibilities to farmers and customers seriously.
Mr Innes told BBC Scotland that cuts in the price paid for their milk had left farmers with difficulties covering their production costs.
He added: "What we are looking for is a contract that every litre of milk sold in Britain will be cost of production covered."
The demonstration was held ahead of talks between government ministers, dairy farmers and milk processing firms in an attempt to resolve the dispute over prices.
After the meeting, the UK government said dairy farmers and the processing firms they supply agreed on the broad principles of a deal.
The agreement relates to a voluntary code of practice designed to give farmers more bargaining power.
Scotland's Farming Secretary Richard Lochhead has welcomed the move.
He said: "Today's agreement is a good step forward which addresses some of the most important issues, but our dairy sector is not out of the woods just yet.
"The test of success for our farmers will be when we see them being paid a decent return - and certainly one that is above the cost of production."
Mr Lochhead added: "There is still much work to do."
Danny Alexander, a Highlands Lib Dem MP and Chief Secretary for the Treasury, attended the new Asda opening and said he was hopeful the dispute would be resolved.
'Listened closely'
Asda said it took its responsibilities to farmers and its customers seriously and understood the challenges facing both sides.
A spokeswoman said: "We have listened closely to the concerns of our farmers and understand the financial pressures they are facing.
"That is why on Tuesday last week we committed to increasing the premium paid to our 272 dedicated dairy farmers from 1p per litre to 3p per litre from 1 August.
"This move is worth around £30,000 per annum to the average Asda Dairylink farmer."
Plans for the supermarket and petrol station at Slackbuie in Inverness were unveiled six years ago.
Following planning and legal wrangles, construction of the £27m store was completed earlier this year.
Tesco has four stores in Inverness. Morrisons, Co-op, Scotmid, Aldi and Lidl also have a presence while the nearest Sainsbury's is in Nairn.
Asda said the new supermarket had created 400 new jobs.
It said the superstore's grass roof was not only an eco-friendly measure but would improve the view for people in houses on a hill overlooking the site.
The chain unveiled the site back in May 2006 but issues surrounding improvements to roads leading to the store meant the development was delayed.
Scottish ministers held back on giving the go ahead until they were content suitable measures would be put in place to deal with traffic congestion.
Consent was finally given in January 2011.
Archaeologists commissioned to check the site ahead of construction work uncovered evidence of Bronze Age burials.
Almost 2,000 flints and pieces of Neolithic pottery were also discovered during digs.