1872 education act's impact on Gaelic to be explored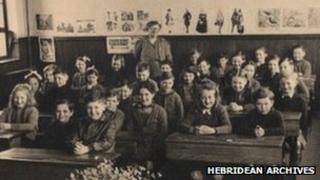 The impact of an act introduced 140 years ago on Gaelic and the culture of the Highlands and Islands are to be explored by academics.
The Education (Scotland) Act 1872 introduced compulsory schooling for children across Scotland, but excluded the teaching of Gaelic.
The move has been regarded as hugely damaging to the use and promotion of the language.
Hebridean Archives will host the conference on on 25 August.
It will be held at Balivanich Primary School on Benbecula.
Conference speakers will include two academics from the University of the Highlands and Islands.
Prof Matthew Maciver is a native Gaelic speaker from Lewis and has held various positions on organisations involved in the promotion of the language, including the Gaelic Playgroups and Nursery Association.
Dornoch-based Dr Elizabeth Ritchie's areas of research include education in 18th and 19th Century Scotland.
William MacDonald, of Comhairle nan Eilean Siar's education department, will be another of the speakers.
The three will look at the extent of the damage caused to Gaelic by the act, and how successful efforts to reverse the harm have been.
Before the act was introduced, education authorities were actively discouraging Gaelic and pushed young speakers towards speaking English fluently.
The Society in Scotland for the Propagation of Christian Knowledge, set up in 1709, was said to have been "outwardly hostile" towards Gaelic in its work educating young Gaels.
It told teachers to ban its use in schools and playgrounds.
Following the act, children caught speaking Gaelic were belted and faced further corporal punishment if they did not give up the names of classmates they had been talking to.
The 1918 Education Act played a part in changing attitudes to the language.
It placed a requirement on authorities in Gaelic areas "to make adequate provision for Gaelic".
The Inverness-shire Gaelic Education Scheme and the Western Isles Bilingual Education Project followed.
Gaelic medium education was made available to children in the 1980s.