Caithness geese fly in wind farm 'collision risk zone', says SNH report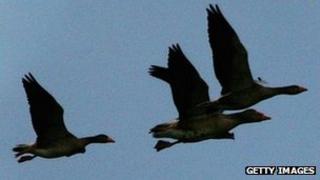 Most wild geese foraging for grass in Caithness fly at a height that could put them at risk of colliding with wind turbines, according to a new report.
Scottish Natural Heritage (SNH) commissioned a study of geese and whooper swans that flock to lochs in the county.
It said the research was prompted by an increase in applications for small to medium-sized wind projects.
Almost all the geese were recorded flying in the "collision risk zone".
The zone was deemed to be 20m (65.7ft) to 150m (492ft).
Whooper swans were also recorded flying at a level that would put them at risk of collision with turbine blades, but one third of the birds flew below 20m.
Researchers counted 1,576 greylag and 6,594 pink-footed geese along with 39 whooper swans.
The report said the agricultural landscape of north Caithness was "heavily used" for foraging by geese and swans from the Caithness Lochs Special Protection Areas.
The report's authors added: "The current and anticipated numbers of small-scale turbine applications has the potential to present increasing risks to these species from collision, disturbance and displacement."
The study updated 10-year-old information on geese and swans in the Caithness Lochs SPA.