Hunters lose red tailed buzzard over Highland estate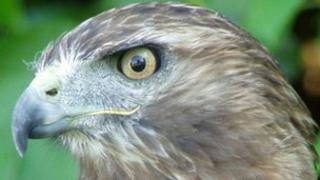 Hunters on a grouse moor south of Inverness have lost the raptor they were using to take game birds.
The red tailed buzzard called Squeak was being flown on the Muckrack Estate when it was carried off on a strong gust of wind.
The bird of prey, which is native to North America, was last seen about the Duthil to Furness road heading west across the A9 towards Tomatin.
A reward has been offered for help in recovering the bird.
Daniel Webb, one of Squeak's owners, said she was larger than buzzards indigenous to Scotland.
He added that the bird has leather ankle straps and will not be afraid of people.