Western Isles clinicians ditch paper for iPads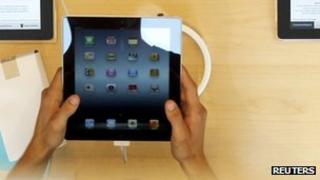 Front line staff at a Scottish hospital are using wireless technology instead of sharing paper notes to communicate patient handover.
NHS Western Isles said the Cortix system at its main site reduced risks associated with the passing on of information about patients.
Consultants and clinical nurses are using iPads, iPods and PCs.
NHS Dumfries and Galloway and NHS Highland have also purchased licences for Cortix.
More than 20 staff use the system at NHS Western Isles.
The technology is used to communicate handovers, task management notes, patient lists and ward and admission details.
Dr Jim Ward, NHS Western Isles medical director, said effective handovers were crucial to patient safety and continuity of care.
He said: "This system, implemented by teams of frontline clinicians, working on iPods and utilising WiFi available in all clinical areas is being used to schedule and record the completion of clinical tasks.
"It has become the basis for multidisciplinary handover arrangements in Western Isles Hospital."