Robotic crane to extract waste from Dounreay's Shaft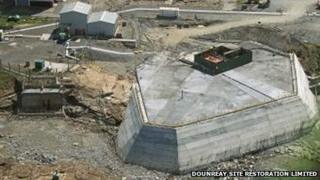 A robotic crane will be used to remove radioactive waste from a 65.4m (214.5ft) pit at the Dounreay nuclear complex in Caithness.
Tenders have been sought for two contracts to design, build and install the system to deal with material inside The Shaft.
The work for Dounreay Site Restoration Limited (DSRL) is worth a total of about £4m.
The Shaft was sunk in the 1950s close to the shores of the Pentland Firth.
It has been the subject of local legend, including the claim that one worker dropped his mother-in-law's ashes inside.
Radioactive waste was disposed there from 1959 to 1977, when an explosion ended the practice.
In May, the executive team at Dounreay said work on cleaning up The Shaft, which is covered by a massive bunker-like structure, would be accelerated.
The robotic crane and grabber, which will be lowered inside to collect waste, will need to be able to cope with a challenging environment.