Shinty cup broken in post-match celebrations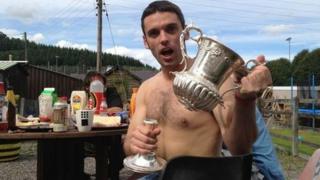 The winners of one of shinty's most prestigious trophies have apologised after breaking the cup during their post-match celebrations.
Glenurquhart defeated Oban Camanachd 6-0 on Saturday to win the Macaulay Cup.
It was the Drumnadrochit-based club's first national senior trophy in its 127-year history.
The Macaulay Association said it was angry that it only became aware of the damage after photographs of the broken cup were posted on the internet.
Glenurquhart Shinty Club said the damage had been caused accidentally and not in a malicious act.
The club has apologised and said the trophy was repairable.
The roots of shinty can be traced back to a game played with a curved stick and ball in Athens in the 5th Century.
It is a fast, physical sport, with the object of the game to score goals, according to the shinty's governing body the Camanachd Association.
An enthusiast of the game described it as "carnivorous hockey".
The stem of the cup, which had undergone £700 worth of work before Saturday's final, was snapped during celebrations.
The Macaulay Association said the damage was done within 36 hours of the trophy presentation.
In a statement, the association said: "To compound the problem the Macaulay only became aware of the damage as a result of postings of photographs on a social networking site, which did little for the reputation of the persons responsible.
"The Macaulay Cup had recently undergone a total refurbishment at considerable cost and was in excellent condition when presented on Saturday."
It added: "The Macaulay Association acknowledge communications from Glenurquhart Camanachd where the Drumnadrochit club have accepted full responsibility for this regrettable incident, and have indicated they will recompense the Macaulay Association fully for all expense incurred in required repairs."
The association said it would not tolerate the trophy being abused, and that it would review what happened to the cup after future finals.
Glenurquhart's manager Drew MacNeil said it was unfortunate that people were talking about the trophy being broken, rather than the team's performance in the final.
Grand slam
He told BBC Radio Scotland's Beattie programme: "My understanding is that it got slightly bent, somebody thought they would straighten it and of course it broke.
"It wasn't malicious, or high jinks, it was just an unfortunate situation."
The Macaulay Cup was first presented in 1947 and kicked off shinty's first ever summer tournament.
It is considered to be one of the game's Grand Slam trophies.
The cup is not the first shinty trophy to end up at the centre of controversy.
In 1990, the Camanachd Cup was left abandoned overnight in Portree's town square after Skye picked up the game's top prize.