Descendants in 1912 Land's End to John O'Groats remake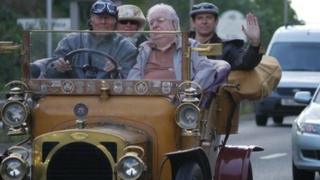 A 1912 car owner's journey from Land's End to John O'Groats is being recreated by his three great grandchildren.
William Warn made the road trip in a 1907 Singer car.
His descendants Frank, Craig and Heidi Clapp, along with family and friends, are making the journey in the same kind of 25 horsepower car.
The team, all from England, have reached the Highlands. They had planned to travel in a modern car but were convinced by a friend to use a Singer.